Rates are really pretty simple. $5.00 a month. That's it. For every sponsor I receive, I will do a blog post introducing your business and directing my readers to your site.
Why advertise on Life As Lori? In the past couple of months Life As Lori has grown rapidly. I post nearly every day, and participate in link parties all over the web, which in turn drives traffic to the blog. On Thursday, I host "Get Your Craft On Thurs." which is growing steadily as are my followers and subscribers.
Also, if anyone is interested in sponsoring giveaways on Thursday's during my party "Get Your Craft on Thurs.", please let me know. I'm all for promoting moms in business in any way that I can.
Please send emails to lifeaslori@yahoo.com. For advertising, please put "Advertising" in the subject and for giveaways, please put "Giveaway" in the subject.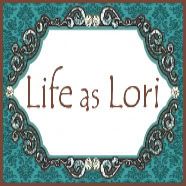 Please contact me at lifeaslori@yahoo.com