Hi guys, sorry I'm late but we have basketball! We had a tournment game tonight and the girl's won! Yea! We have another one tomorrow night! I'll be glad when basketball is over this season!
Here are a few things I've been doing during basketball season!
Our dog Alice the bulldog! She's the mascot!
We had a get together for the girl's and we bought these cups from
Expres Urself
!
Emily is already putting hers to good use!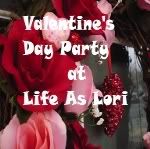 Now let's Party!
Here are the rules just to make sure we are all playing fair:
1. Link to your specific post, not the main page of your blog.
2. Grab my party button so everyone can get in on the fun.
3. No advertisements for shops, websites, giveaways or other link parties please.